Private chauffeur service
Sightseeing and tours in Brussels and in Belgium
Rent a car with driver for
the day.
Hire a car with a private driver in Brussels and discover the story, emotions, and tastes of Belgium through landscapes, admirable monuments, fine cuisine and more as it belongs to your desires.

Chauffeur Brussels offers you a limousine service for half the day or a complete day depending on your destination.
Brussels
With our private chauffeur tours, you can visit Belgian's main spots and monuments depending on your choice of locations:
Brussels "Grand-Place", museums and its historical monuments, picturesque district of "les Marolles" and patrimony Art Nouveau, welcoming you.
Be tempted by the rich heritage of this patrimonial city and the warm ambiance of the restaurants and pubs.
Chauffeur driven car in Brussels center: Grand-place, Ilot sacré, Manneken-Pis, St.Catherine, Tour Noire, Bourse, Cathedral St. Michel, Monts of Arts, Royale street, Regence street, Colonne du Congrès, Belgian Parliament, Royal Park, Royal Kingdom, museums, Sablon, court...
Chauffeured car in Louise area: Louise Avenue for shopping and a few new Art houses.
Chauffeured car rental for the Residential: La Cambre, Roosevelt, Souverain, Tervuren avenue.
Chauffeur car service for the EEC: Cinquantenaire : the park and its new museums, European Institutions, Square Ambiorix and its Art nouveau area, embassies and delegations in Brussels.
Chauffeur hire Brussels in the Heysel: Either for the Expo Heysel or Royale Residence and its Royale greenhouse, Léopold I monument, tour Japonaise and Chinese pavillon, Atomium, Heyzel, Mini Europe.
Antwerp
Our chauffeur car service will take you to Antwerpen. You will be surprised by its patrimonial History yet contradicting the contemporary surroundings of the city. It is a splendid city with numerous architectural highlights, most of which date from the 16th and the 17th century.
Monuments left from the destruction of the Second World War are viewable for those who like monument-hopping, spending a few hours admiring them. The past is also represented by the numerous paintings of Peter Paul Rubens who lived in the Antwerp of the early 17th century.
Antwerp, known as the diamond centre of the world, is where most people do not miss out on visiting the famously diamond district.
Nowadays, Antwerp has earned a place among the fashion cities of the world thanks to the efforts of numerous young Flemish fashion designers, call our limousine service and you won't be disappointed.
ESTIMATE & BOOKING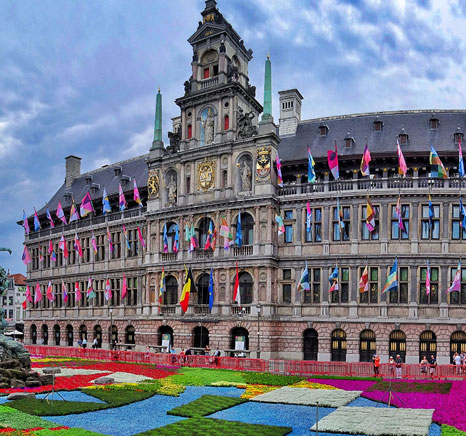 Antwerp Tour
Do you want to change your environment and quench your thirst for historical knowledge? Chauffeur Brussels will take you to a private visite to Bruges long known as "Venice of the North", and also a favoured tourist destination in Belgium.

Our private chauffeured service will take you into the romantic atmosphere of Bruges: basilique du Saint-Sang, museum Ancien Palais du Franc, Gruuthuse, le tour des canaux en bateau, le Béguinage.

Add an extra chauffeur service and you can add an extra stop at Ghent
A charming city that is successful with a mix of impressive medieval buildings, museums, castles, fashionable shopping locations with magnificent city palaces, early 20th century working class quarters, now mostly inhabited by students and so much more. You will find lively squares where you can enjoy the lovely local food and drink at pleasant terraces.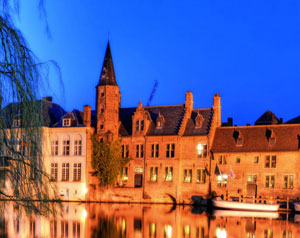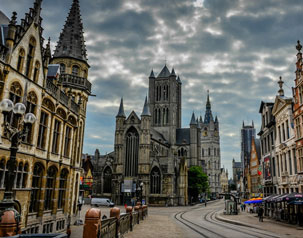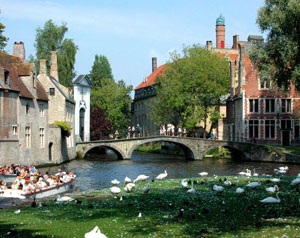 North

Sea
Rent a luxury vehicle with a private driver in Brussels and go visit Knokke, Zeebrugge, Ostende, Middelkerke, Nieuwpoort...
With our personalised chauffeur service, spend all day on the sea where together we can define the best circuit. Whether its about sea stations, ports, art galleries, dining or sport, our limousine hire with private driver will guide you according to your needs and different seasons.